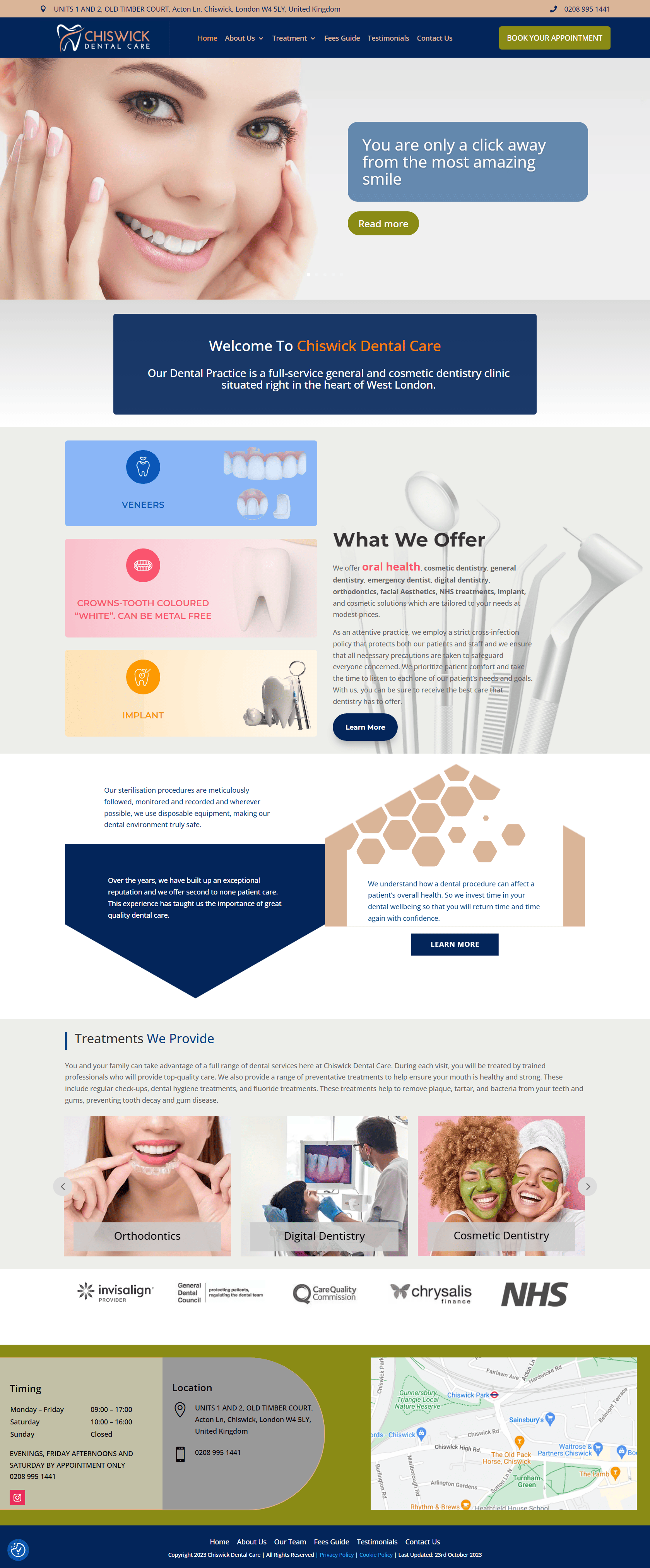 Chiswick Dental Care clinic is based right in the heart of West London. They offer a full serviced clinic for both general and cosmetic dentistry. They aim to provide their patients with outstanding care and endeavour to give their patients a firm commitment to dental wellbeing.
They have worked hard to create an atmosphere that offers a relaxing, comfortable and friendly environment that helps to promote exceptional oral health.
To view the website Click Here
We were commissioned by Chiswick Dental Care to develop a website that would help them to gain new patients in the main area of Chiswick and surrounding areas. They were looking for the site to be simplistic in appearance, user-friendly, easy to navigate, informative and attractive. The site needed to be responsive to all devices. It also needed to be compliant according to GDPR, GDC, CQC and NHS guidelines.
Our client worked with us to create more informative pages within their site to list the range of different services of dentistry which they provided as well as offering educational guidelines to their patients to promote oral health. It also incorporated the updated NHS and Private price list for all dental treatments.
Finally, our client required a new section to showcase patients before and after treatment as a testimonial to the outstanding work which is carried out by their surgeons.
Chiswick Dental Care SEO Project
The purpose of carrying out SEO for Chiswick Dental Care was to drive more patients within the Chiswick and surrounding area to their practice.
Initially, the analysis was carried out on their website for On-Page SEO.
This was necessary to check to see if our client's website complied with all of the on-page SEO elements. After doing this, we checked all of the configurations that had been made in the code for indexing the website in Google Search. Our next port of call was to create content and keywords according to the basis of website services. Finally, we carried out off-page SEO which helps to boost the website rank in the search results. Here the website was added to different online directories and links with dental relevant websites.
We follow the guidelines and Standards set by GDC, CQC, BDA, NHS, and ICO, ensuring your practice operates professionally and in full compliance with all regulations.
To view the website Click Here