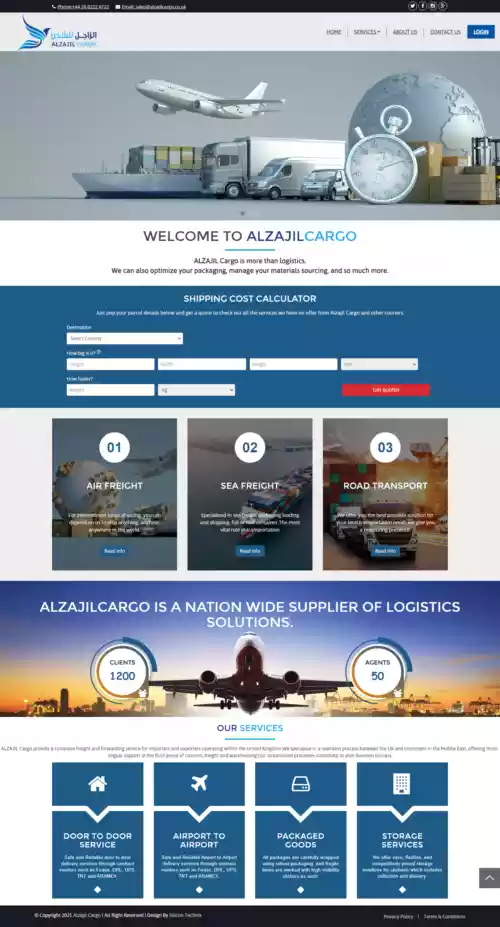 ALZAJIL Cargo provides a complete freight and forwarding service for importers and exporters operating within the United Kingdom. They specialise in a seamless process between the UK and customers in the Middle East, offering multi-lingual support in the fluid arena of customs, freight and warehousing.
They provide the most extensive and professional forwarding services to its customers and agents and use streamlined processes to ensure competitive pricing and a super-fast turnaround time.  Alzajil Cargo's mission is to accomplish absolute perfection and make full use of all developmental innovations in the cargo industry.
ALZAJIL Cargo hired Silicon Technix as they needed a modern, effectively designed website with a built-in booking system for their door to door and airport to airport cargo services. They also wanted to offer a cargo service for Road Transport, Sea Freight and Air Freight. In addition to these services, extra pages were required to showcase their Packaging, Warehousing and Storage services.
After totally understanding what was required, we produced a functioning fully online booking system which could do the following elements:
• See live dashboard sales and status of all bookings.
• Add multi warehouses,
• Assign Agents, (so the agents will get the commission when they will book a job straight away).
• Add internal staff members
• Create worldwide zone
• Set rates for the cargo service, handling, screening, pickup
• Create cargo type
The finished website now gives visitors a great impression about our client from the moment that they enter onto the site. It also runs very fast and is mobile friendly to ensure that they keep their customers happy and engaged.