As web designers silicontechnix, we team up with podcast introduction to create a seamless and engaging website that better reflects the goals and pillars the podcast is built upon. Our client wanted the website to be more attractive and also want to add New Menu List Add to Cart (with icon) . We started our project by developing a modern and responsive website design that reflects the podcast's mission and values.
ExComS interactive learning institute delivers online university pathway programs with full undergraduate & postgraduate diploma awards to learners from all corners of the world. They have highly experienced and qualified staff who help to enhance your academic and professional skills.
Our client's interactive learning institute provides affordable with international standard high-class fast track online study program to enhance current education and progress further with renowned UK Universities.  Their web-based modules allow students to learn where they want, when they want and how they want and have been designed to facilitate a much faster and engaging way to learn. With a 24/7 student networking platform, personal dashboards, 1-2-1 online tutorials, group webinars and a bank of pre-recorded group webcasts, the ExComS provides students with all the support that they need to succeed in developing their professional skill base and achieve a university qualification.
With over 10 years of experience in IT Support, they are one of the key resource providers to the IT industry globally. They provide Level I, II & III Desktop Support Engineers to the IT industry and currently managing clients in UK/ EU/ South East Asia/ Middle East/ Australia.
EXCOMS TRAINING is a platform that provides telecom trainings and consultancy to telecom companies including Telecommunications Service Providers, Public Network Operators, Internet Service Providers, Equipment Suppliers, and local and central government.
UKEP is dedicated to providing education and training to the highest standards. They aim to meet the education and training needs of individuals and employers. In addition, their resources are targeted to raise skill levels and maximise individuals' potential.
They also help to deliver a curriculum portfolio that meets local, regional and international education and training needs. Lastly, they want to ensure that their learners have access to a safe, secure and a good quality learning environment.
Global Education and Training Systems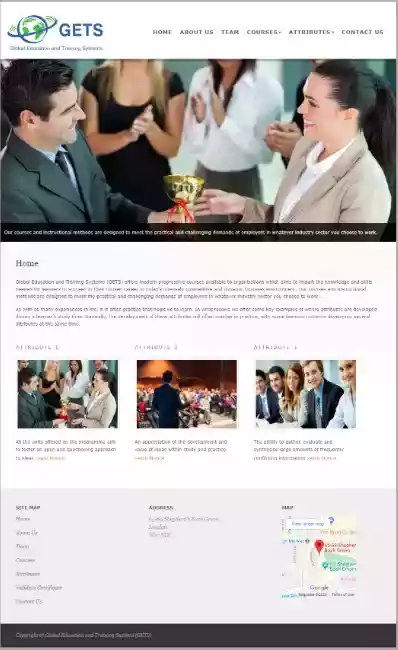 Global Education and Training Systems (GETS) offers modern dynamic courses, inculcating knowledge and skills in its students needed for their thriving and progressing careers in the modern world.
GETS provides a valuable service to their clients but their old online presence didn't match the professionalism and high-quality work that they provide.
Paragon Education Group Ltd
Paragon Education GrParagon Education Consultancy is a newly established international student support consultancy firm to promote and market UK Higher Education Institution courses offered by universities across the country.
They offer advice and guidance to the high calibre and quality students from around the globe for the University of Bedfordshire, Coventry University, University of Hertfordshire, De Montfort University and Cardiff Metropolitan University.