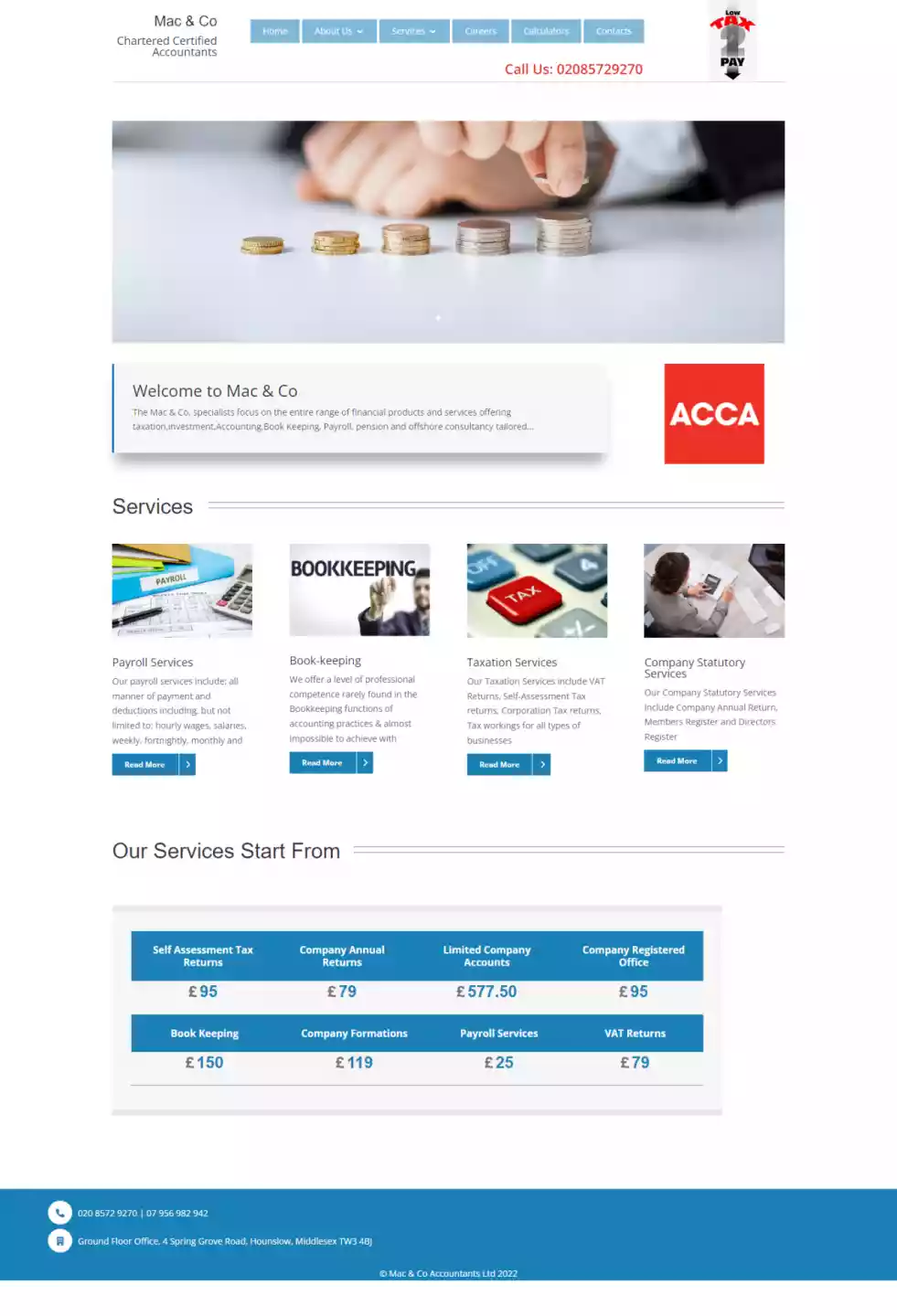 MAC & CO are an accountancy firm based in Hounslow, Middlesex and are a financial solution provider. The Mac & Co. specialists focus on the entire range of financial products and services offering taxation, investment, Accounting, Book Keeping, Payroll, pension and offshore consultancy tailored.  They believe that they can assist their clients best by ensuring that they receive the counsel and information necessary to help them make sound business judgements.
MAC & CO approached us to build a website that could help them to meet the needs of their growing client base. They were after a simple website that had an easy-to-use navigation system and the website was GDPR compliant. It was also essential that the new website was fully mobile-responsive to ensure that audiences using all kinds of devices were able to enjoy a seamless navigational experience.
After long discussions, the project was developed for introducing services like Offering taxation, Investment, Accounting, Book Keeping, Payroll, Pension, Offshore consultancy tailored Different Calculators are included in the website for the ease of users. The calculators to be used were as follows: VAT Calculator, Mortgage Calculator, Loan Calculator, Loan Interest Calculator.
The end result meant that we produced a fully responsive website with a dynamic navigation system that perfectly showcased our client's services. Most importantly it gave off the impression to their online visitors about their unique approach as a growing accountancy firm.
SEO Project Details
Initially, the analysis has been done on the website for ON Page SEO then all the configuration has been made in the code for indexing the website in Google Search. Content and keywords have been made according to the basis of website services. On off-page, the website has been added to different directories. On-Page SEO has been done with the keywords suggested by the client.
Link Building and Directory Listing have been done too.